Perception and Action in a Shifting Retail World
ABOUT
The purpose of this study is to understand how smaller "main street" retailers in the downtown cores of Ontario cities and towns are exhibiting or struggling to exhibit resilience. The broad sweeping economic and social crisis generated by the COVID pandemic is proving to be unlike many other disasters. Whereas most often-studied disasters arrive quickly, wreak their havoc and leave, the COVID pandemic is continuing to build and will have meaningful impacts until the disease is eliminated or an effective vaccine gains widespread use. What also appears clear about the COVID-generated crisis is that when it is over, our economic and social systems may not return to the old normal, but rather to some new 'normal'. We are interested in how these retailers are understanding this new normal, conceptualizing and forecasting the future, and taking action to adapt to the reality of a new normal that appears inevitable.
We have partnered with the Burlington Downtown Business Association (BDBA) to explore our shared concerns over the changes coming with the new normal. The BDBA is a not-for-profit association that is responsible for maintaining a vibrant Downtown business community. Its members are those property owners and commercial tenants occupying downtown Burlington properties. This research will help the BDBA provide insights to help its members respond to the crisis.
This study is qualitative and theory building in nature. We intend to interview 45 retailers across 5 different business improvement area (BIAs) in addition to representatives from each BIA. We will interview these respondents on a quarterly basis over the coming year. By studying how resilience processes unfold in real-time in "main street" retail businesses across Canada, we expect the insights from this data collection to offer an unprecedented view of how managers and business owners perceive and assess the contours of systemic change and shed light on the determinants of resilient responses.
LETTER OF INFORMATION
COVID Retailer Study – Letter of Information
OUTCOMES
This is an ongoing study. Quarterly reports and other published work will be posted here throughout the study and upon its completion.
Dress Pants Optional: How retailers are dealing with changing consumer habits
This piece was picked up by a number of radio outlets including NewsTalk 1010 and elmntfm.
The following is an interim report on our findings: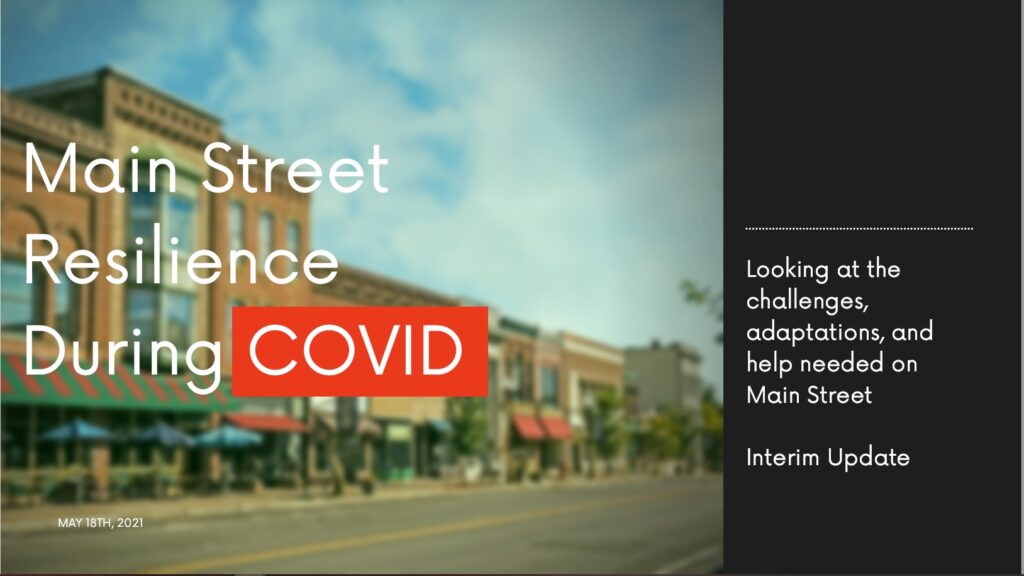 RESOURCES
For more information about related research, visit these sites.
OBIAA – 2020 Progress Report: Building Resilience for Small Business
The OBIAA has released a progress report on Digital Main Street, part of the Ontario Main Street Revitalization Imitative, which has helped many small businesses during the COVID-19 crisis.
OBIAA – Return on Investment of BIAs – Understanding the Value of BIAs
The OBIAA has identified the goals and value of business improvement areas (BIAs).